Come one, come all! It's time to determine who the winner of the Blades of Grass pattern giveaway!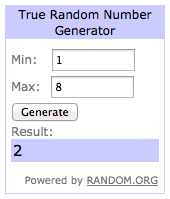 We had 8 entries, which means there is one winner. I went to the Random Number Generator and asked it for a random number between 1 and 8. The number that came up was 2, so the winner is Nat!!! Congratulations!
To recap, Nat has won a free copy of my Blades of Grass pattern, which I've sent via Ravelry.
Thanks for playing, everyone! Please come back and visit again soon, and keep an eye out for the next giveaway! And even if you didn't win a copy of the pattern, it's on Ravelry for only $1.50, which is not that far from free :)