Skill + 1UP – 2KCBWDAY2
Look back over your last year of projects and compare where you are in terms of skill and knowledge of your craft to this time last year. Have you learned any new skills or forms of knitting/crochet ?
I have grown so much as a knitter, it's crazy! I started knitting, sort of, a few years ago, but it's really been in the past year that I've gotten serious about it. For all intents and purposes, at this time last year, I was a newbie that had knit and purl down pretty well, but had never really done much of anything. I had made a few small projects and I think I had even learned how to knit in the round, but mostly all I had was frogged projects and lots of frustration. I've come a long way since then!
One of the more obvious changes (to me anyway) is that my tension has gotten a lot more consistent, and also a little tighter. I noticed this recently, when I picked up and finished a project that had been sitting, untouched, for about a year. My regular visitors will have already seen me comment on this, in my Prickly Gloves post. I tried to take a photo to show you, but it doesn't show up in photographs very well.
Anyway, you can totally see where I picked the glove back up. The stitches became more even, and the glove looks more like an actual tube than a strange tangle of yarn in a roughly tube-like shape halfway through the glove. It also fits a lot more snugly, because I don't knit as loosely and sloppy as I used to. All in all, my FO's now look a lot neater than they did last year.

Some new techniques I learned were lace knitting, and cables. I was so intimidated by them last year, and now I can't help but giggle about it. I finally took the plunge into lace when someone said "lace is essentially just knits and purls with some yarn overs", which I found to be very encouraging. I knew how to knit and purl, and do yarn overs. SSK was pretty straight forward, too.
When I finally did cables, I couldn't believe how easy they were! Nobody told me that they were just stitches knit in a different order, so I was sure they required some insane, crazy thing that would leave me curled up under my desk muttering to myself. Yeah, not so much!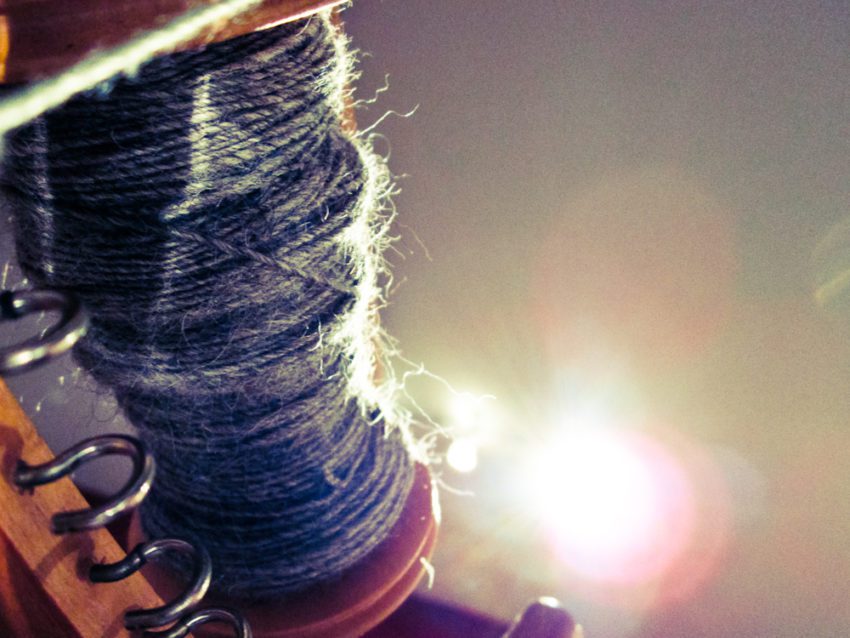 And last, but certainly not least, in a fiber-related art, I learned how to spin! I'm not very good yet, but I've gotten better. So far I can only make thick-and-thin yarn (which I'm not fond of), and thin singles. I want to make a worsted weight single out of specific fiber I have, but I need a lot more practice! For the curious, my wheel is a single treadle Ashford Traditional named Amelia, and she rocks ♥
I think in the coming year I want to dip my toe into some more advanced colorwork. I've done stranded knitting where you only carry one yarn per row, and I did a super basic instarsia project, but now I want to try something a little more complex! I think I might start with Endpaper.
What have you learned or gotten better at in the past year?