This year, a ton of people that I know have had or are having babies (including myself, but that's another post for another day), so I needed something quick and easy to make as gifts that would still be cute and practical. I love giving homemade gifts but being pregnant myself, I didn't have time (or fabric money) to make little blankets for everybody like I normally do.
So, I gathered a few patterns that were fast and didn't use a lot of fabric, and put together a little set that I could whip up as needed. Everybody has been happy with them and it's fun to pick fabric that will suit each baby.
These first two pictures are space themed ones that I made for my baby, because I'm silly and forgot to take pictures of some of the gift ones I made.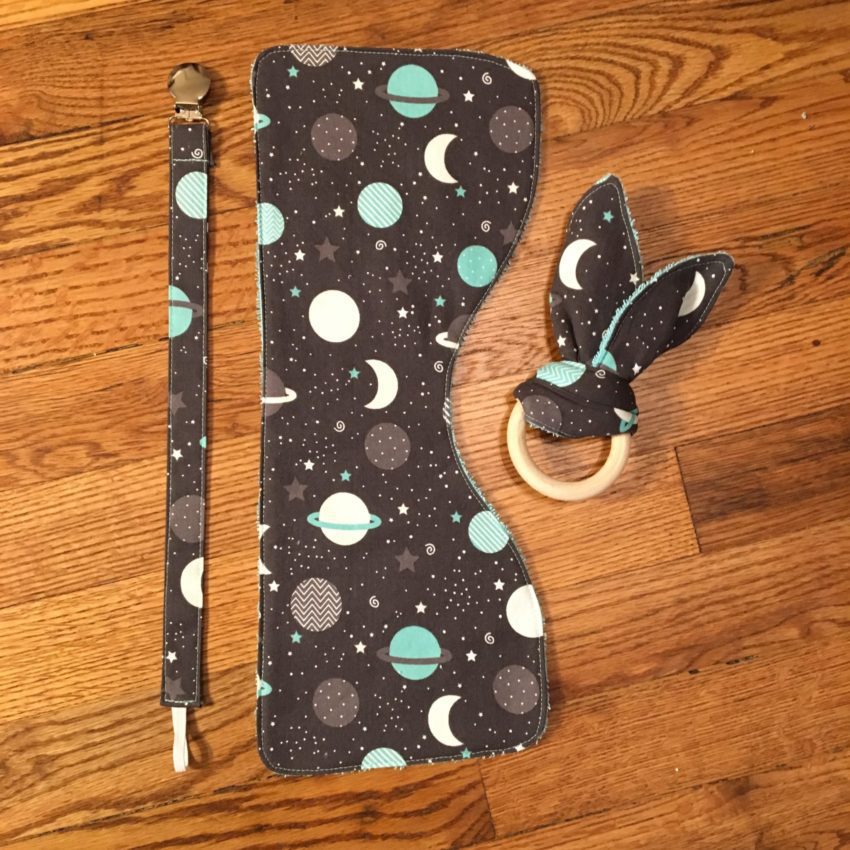 First up is a really cute little bunny ear teething ring. I bought the wooden rings on Amazon, and the pattern piece/tutorial is from Make It and Love It.
The second piece is a burp cloth that I've blogged about before, I still really like the shape of it. That pattern is Perfect Burp Cloth from So Sew Easy.
The last piece is a pacifier clip, which I have found to be immensely useful; my little guy loves to spit out his binky and this keeps it from going too far. I bought the metal clips from Everything Ribbon on Etsy, and basic instructions for how to put it together can be found on How Does She. I got the 3/4″ clips and really like the size of it, but I think 1″ is pretty popular too.
If you don't have a million babies to make gifts for and would like to include a blanket, I'm really fond of Self Binding Baby Blankets made with quilters cotton and flannel.
I hope you guys enjoy this little round up, these sets are so fast and fun to make!