For her two month photoshoot, Zoe actually had two outfits because I couldn't decide which one I wanted to use haha. I loved her little romper, but it was so close to 4th of July that I had to also put her in the outfit I made for that.
Her first outfit is this adorable Harlow Romper. It was a perfect summer sew, cool and comfy. And of course, snaps along the bottom for easy diaper changes!
The fabric is a super cute Cotton + Steel print, a brand I already loved from my bag making. I was so excited to find this print in a knit jersey! I actually made a second order to make something for myself with this print (but haven't yet, sigh).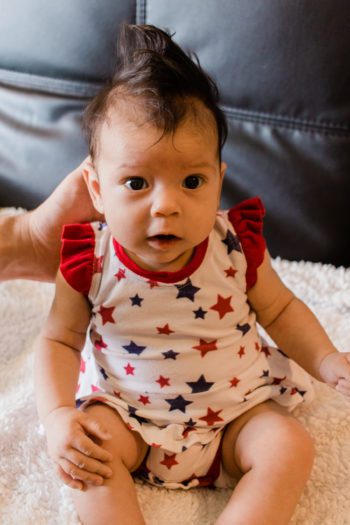 Before we talk about the second outfit, can we talk about how amazing her mohawk is?? I love her hair so much, especially since Miles was pretty much bald until he was a year old haha. This mohawk just keeps getting more glorious, too!
Ok so this outfit is a hot mess because I barely knew what I was doing. But nobody looked that closely so at least only I really know how bad it turned out. Practice makes perfect though!
The pattern is another amazing one from Peekaboo Patterns, the Tiny Tanksie. I love how so many of the PAB patterns have a lot of options, making them super versatile.
For this outfit I did the bodysuit with peplum skirt and sleeve flutters. The star fabric is from Raspberry Creek Fabrics and was perfect for the 4th of July party we went to! It's been so fun making all these things.