For Zoe's 4 month outfit, I decided she needed a little tunic dress and some pants, because I love wearing that kind of outfit. Also I had this adorable heart fabric that was begging to be a swing dress.
Zoe cracks me up, because she's just really not into these photoshoots the same way that Miles was. He was all smiles and a huge ham for the camera, and she just wants to harass her little stuffed unicorn, try to eat her clothes, and scowl at me!
This adorable watercolor jewel toned heart fabric along with the navy french terry came from the wonderful Raspberry Creek Fabrics.
The patterns are also from some familiar names! The dress is Sophie from Peek-a-boo Patterns, which went together so quickly. The pants were another quick and easy sew, made with the pattern Gusset Pants from Lowland Kids.
Zoe, by the way, is a big baby and I've been having to size up on some of her clothes. She's around 70th percentile for both weight and height at 15lb 7oz and 25in. Miles was so tiny, I'm shocked by how different they are.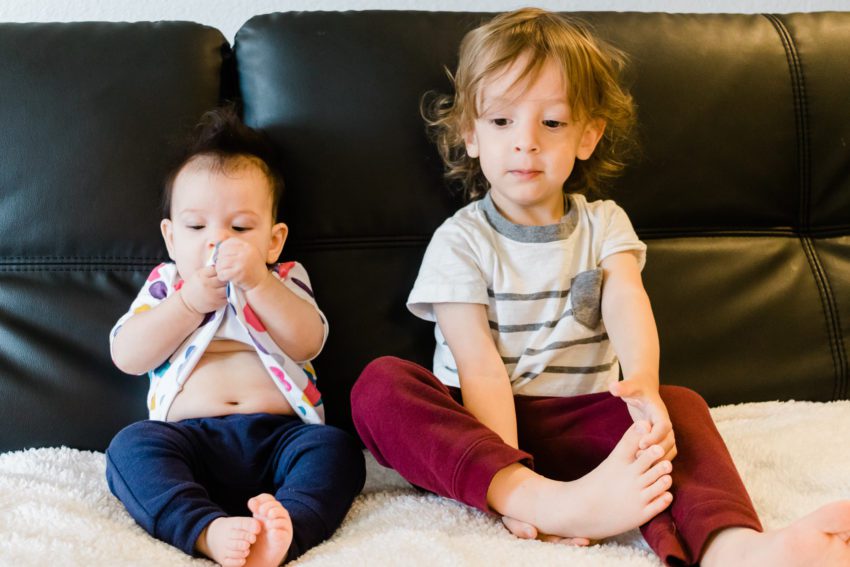 Anyway thanks for stopping by, and in case you didn't believe that she wanted to eat her dress, there's a parting shot also featuring her brother (who is wearing store bought clothes here, oops).