I'm not really much of a Halloween celebrator, but I really love a lot of the decorations. Cute little skeletons, zombie anythings, pumpkins and bats are all awesome! So I've been browsing, looking to see what people have been making. There's all kinds of cute stuff!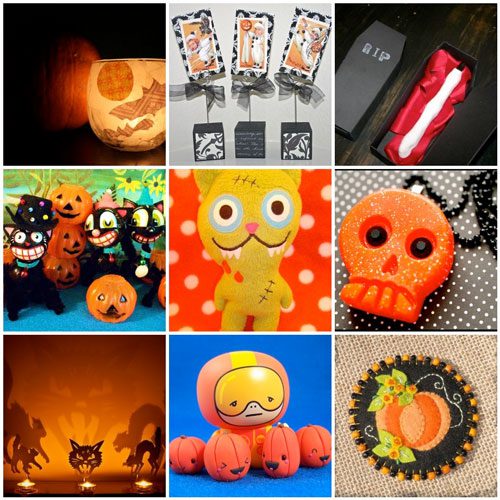 1. Halloween Votive Craft, 2. Set 3 – Halloween Blocks (Christmas on other side!), 3. Coffin Halloween party favor, 4. BIG hat cat, 5. ♥ Cat Zombie Plushie – Katzenzombie ♥, 6. Halloween Skull, 7. Ghost Story, 8. The Pumpkin Patch, 9. Broche calabaza
I cut it a bit too close, and unless my friend Sonia (who arrives for a visit in the morning!) wants to make Halloween crafts with me (… she won't), then I won't be making anything this year, but it's still fun to look.
What have you made for Halloween? Got a cool jack-o-lantern?