Something to Aspire To – 2KCBWDAY6
Is there a pattern or skill that you don't yet feel ready to tackle but which you hope to (or think you can only dream of) tackling in the future, near or distant? Is there a skill or project that makes your mind boggle at the sheer time, dedication and mastery of the craft? Maybe the skill or pattern is one that you don't even personally want to make but can stand back and admire those that do. Maybe it is something you think you will never be bothered to actually make but can admire the result of those that have.
Something I'd like to get into one day is full on fair isle knitting. Admittedly, I don't like a lot of the traditional fair isle projects (they're too busy and stuffy to me for me to ever wear, though they're beautiful to look at), but I've seen some awesome, unique ideas.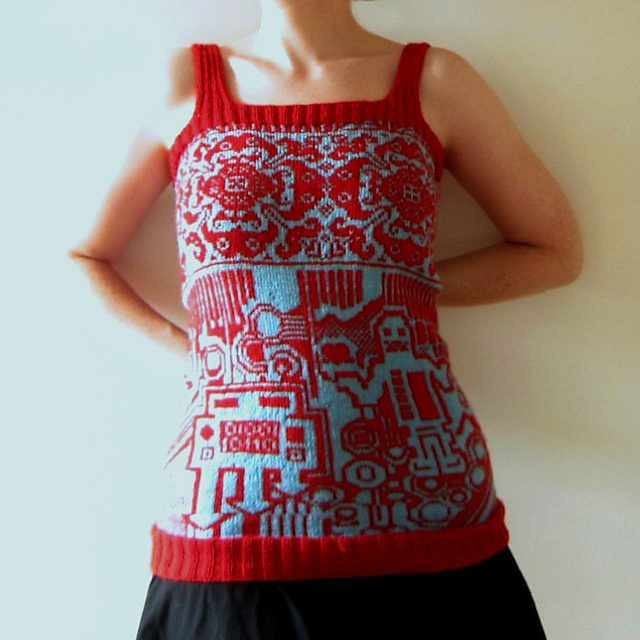 For example, my absolute favorite is elf518's robot fair isle tank top. It's just awesome! Who doesn't love robots? The motif is great, the execution is great, the final item is great. I want one, please!
I've seen some designs I could convert, and I'm quite sure that this shape is really easy, but the thought of working with two yarns at that level (and having to pay that much attention) sort of terrifies me. I know, I'm the biggest wuss ever.
I took my first step towards this with my Spot Check socks; it's the simplest form of fair isle out there. I still managed to tangle the yarn.
I think I might start with a pair of socks. They're small, and theoretically will be easier than a full tank top. That day is still not coming soon though.
A smaller, more attainable goal is to learn how to crochet. I've got the basics down; I can single crochet, double crochet, and that stitch I can't remember what it's called that doesn't add height.. (the equivalent of a slip sticth, I guess), so I'm off to a good start. I have no idea how to read a crochet pattern though.
What do you aspire to learn?