For this past Christmas, my little brother (and by him, I mean my mom using his money) bought me the Ruby Dress pattern from Made By Rae. I'd been wanting to get into garment making but was intimidated by everything I already had, and that one looked really simple.
Months later, I finally decided to just dive in and make it! Actually, when I was fabric shopping I decided I was going to dive in and make four (oops), but that's not so much here-and-now, since so far I've only made one.
I wasn't paying super close attention when I bought the fabric, but I'm pretty sure it's a cotton/linen blend. It softened beautifully in the wash like linen, but feels sturdier than the plain linen that I have. The downside is that it's a little heavy in the gathered areas.
This post is a little light in the photos, and it's because I'm ashamed to show close ups! I may have rushed the construction a little, or I just really suck at bias binding, but my seams are pretty bad. The next one I make it going to be fully lined so I think it'll turn out a lot better.
I think I did my front gather's poorly, too. I'm not sure if I put them in the wrong spot, or if they're not spread out enough, or if the fabric is just a little heavy for the gathering. It looks fine from the front, but if you look at me from the side I look like I'm wearing a (very pretty) burlap sack. It's not at all flattering from the side haha. I've seen other people's dresses that look great from all angles though, so I'm hopeful that the second one turns out better there too. For this one, I think a belt will help. My dress bubbles out a bit between the bust and belly, which is what makes it unflattering, so a belt should tame that. I promise I'm happier than I look in this next shot.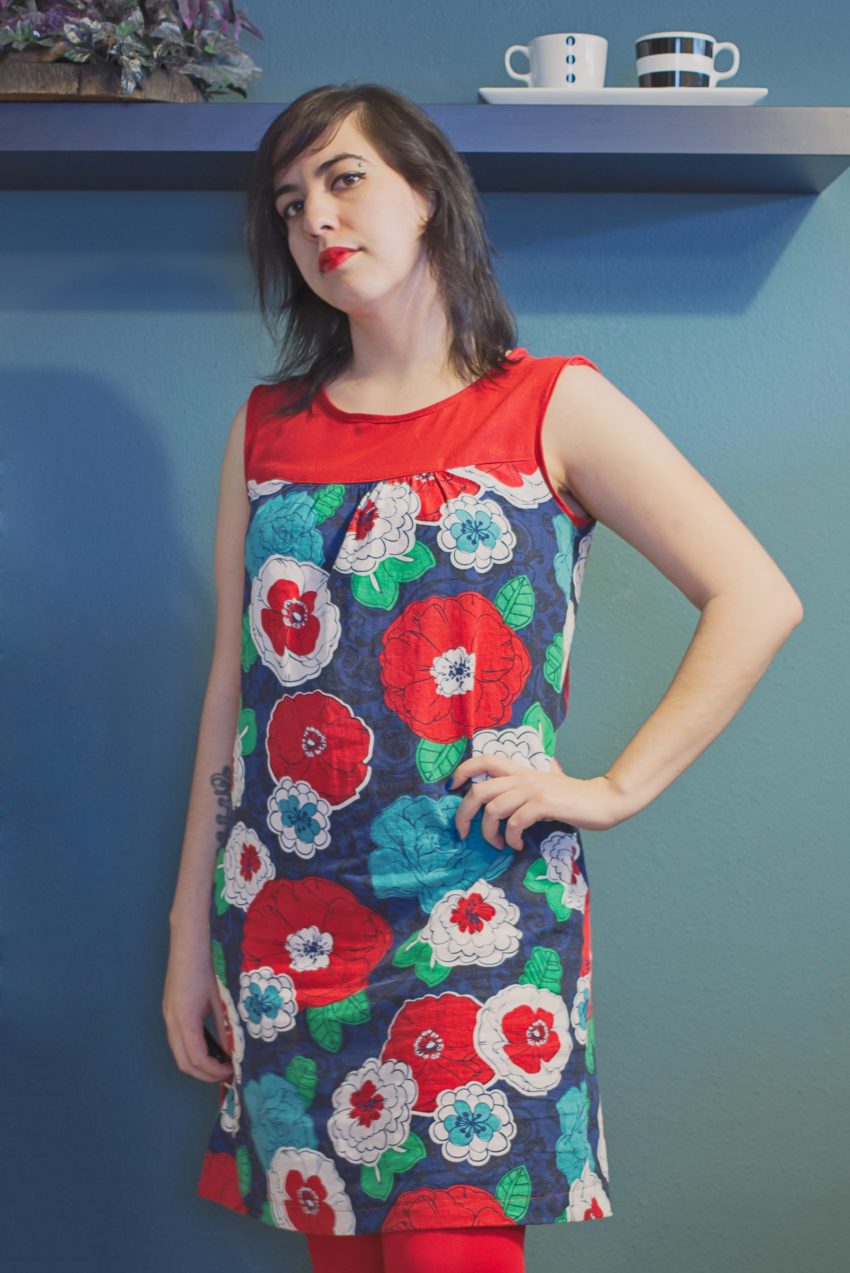 I'm skeptical about if it will hold up in the wash since my binding is so bad (like, some of my raw edges didn't even manage to make it in to it). I'll probably come back and fix it later, with store bought binding (holds it's shape better) and will handsew the back on, and that should fix that problem. There's nothing to be done about the gathers though, I serged that seam and there's no way I'm picking it out! All in all, I do like the dress though.
Now that I've made it once, I look forward to the next three haha. At least one will be just a top instead of the full dress, but I haven't decided with one(s) just yet. I've got a really girly fabric set, and some polka dots. White with black dots that will be topped with solid white, and a sheer pink with white dots. I think the pink one might be a top with no lining that I'll wear over other things, but I might line that with a solid. So many options!