An idea came to me. I have quite a few projects on needles. Many of them have been there, untouched, for quite a while. Clearly I need some motivation to actually, I don't know, FINISH THEM. So, I think from now on, I will make a post at the end of the month showcasing all my current WIPs and my sad, sorry excuses for why they aren't finished yet.
This, hopefully, will be enough to shame me into working on them, especially as the same projects likely keep showing up on the list. So, I present you with August's unfinished projects, in no particular order besides "the order I photographed them in", also known as "the order they came out of the box in", which is oddly enough not based on how old the project is. I'm not sure how that works.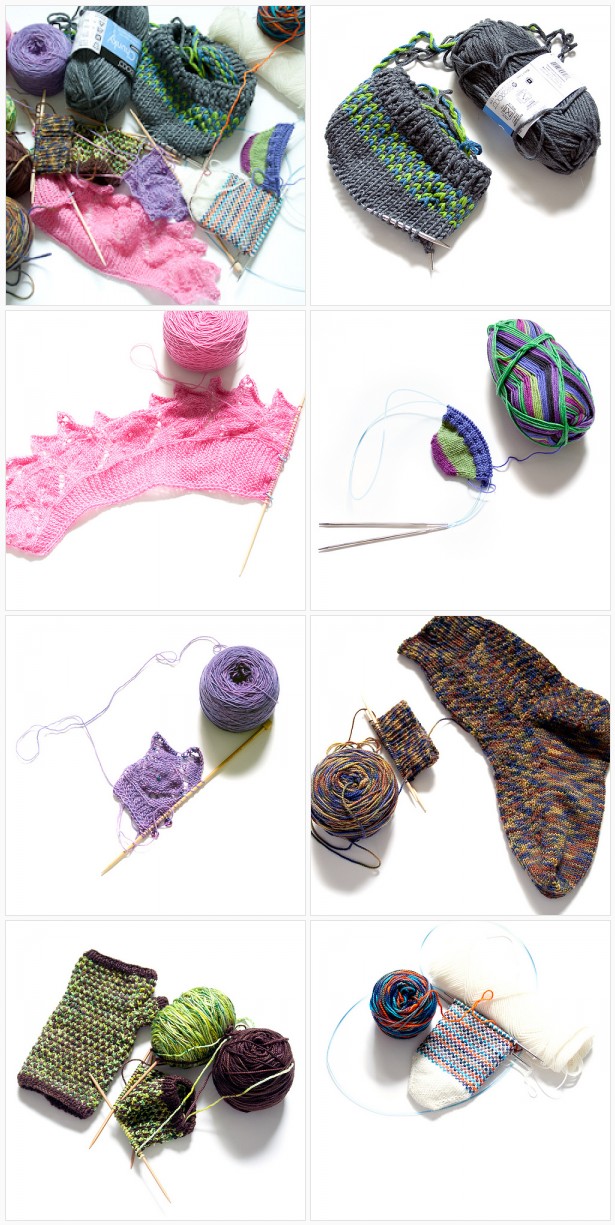 1. August WIPs, 2. WIP – Color Hat, 3. WIP – Heart to Heart, 4. WIP – Traveling Socks, 5. WIP – Heart to Heart, 6. WIP – Everyday Huge Socks, 7. WIP – Prickly Spring Tree, 8. WIP – Spotty Sock, Not Pictured: The Infamous Geodesic Cardigan.
I want to start by saying, yes, I realize that my numbers below don't match the numbers above, which match the order of the photographs. I uploaded my pictures in the wrong order, which lead to my mosaic being made in the wrong order, and I'm far too lazy to redo it all. Just add 1 to the item below to match it to the corresponding image.
Item 1: Color Hat. Honestly, this thing was an excuse to use the last of yarn from my boring Teevee Stiped Scarf. The scarf will never be worn, and the hat probably won't be either, so I don't feel inclined to finish it. The yarn feels nice enough but I just don't like looking at it. The hat doesn't even have a Ravelry project page, for Pete's sake!
Item 2: Heart to Heart (Pink). This is my beading project that I mentioned once before. I put this one on hold while I worked on a purple one for my grandmother. Since the purple one isn't finished yet, neither is the pink one.
Item 3: Traveling Socks. These are actually a deliberate WIP; they live in my bag and only get worked on while I'm bored when out and about. Since I'm usually driving or eating when I'm not home, that's not often. I'll be amazed if these socks ever actually get finished.
Item 4: Heart to Heart (Lilac). And here's the one I'm making for my grandmother. I have no good excuse for why I haven't finished it yet, besides that I'm clearly the worst granddaughter on the planet. I think I need to bump this higher on my priority list.
Item 5: Katie's Everyday First Socks. Ok, so not only do I suffer from second sock syndrome (which, i totally do), but these socks were also doomed from the start. Not just because they're my first attempt ever, oh no, but also because I hadn't realized that the stitch pattern was the same as a pair of arm warmers I had *just* finished (which means I'm tired of the stitch pattern!), but also I didn't check my gauge and the socks are FRIGGEN GIGANTIC. My feet would have to double in width to fit the sock. Needless to say, I don't feel like finishing them. But for the sake of training myself, maybe I will. Someday.
Item 6: Spring Prickly Tree. This is PURE second "sock" syndrome in action. I love everything about this project: love the yarn, love the colors, love the pattern, love the gloves. One would think I'd be able to pick it up and finish it. One would be wrong.
Item 7: Spotty Socks. I actually am working on these, while watching TV in the living room. One sock is finished, so I'm farther along than it looks; I forgot to grab it for the photo. These will be finished soon, I've just been distracted by copying notes from one notebook to another while watching X-Files.
Item 8: Not Pictured, my now infamous Geodesic Cardigan. We've heard me talk about it, when I first started the project. We saw me put it down after working so long and hard on it when I started some other projects. And well, we never saw me pick it up again. Part of that is because I'm still sick to death of working on it. But, I have a BETTER reason for why it's not finished yet than that. I know, right?! Check it out… the other day, I was all set to finish at least one of the sleeves, and guess what… I can't find my sweater. Seriously! The last time I saw it was when I was cleaning my house before my 4th of July party. That's why I never clean, people. Then I can't find things.
Item 8.5: Also not pictured, my Que Sera, Sera sweater. Why is it only a .5 project? Well, ask yourself this: does it really count as a WIP if you made a gauge swatch and never actually cast on for the sweater? My thoughts exactly!
On the bright side, even if I don't actually get shamed into picking one of these back up before starting any one of the gajillion things in my queue (I'm talking, things I actually have yarn for and everything!), at least I took new photos of the projects. That counts as giving them love, doesn't it?